APEX AQUADRAIN HOSE
$13.79
28046
For flushing out gray and black water tanks. Not for drinking water. 5/8" x 25'.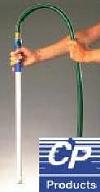 CP PRODUCTS POWER RINSE
$7.59
25670
Transforms an ordinary water hose to a powerful holding tank cleaner. Simply attach the Power Rinse to your water hose. Easy to follow instructions printed on package.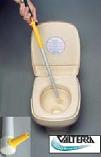 MASTER BLASTER TANK WAND
$8.59
25944
Here's a tank wand with a POWER NOZZLE end, creating one of the most powerful tank cleaning products on the market.



SEWER SOLUTION
$120.79
27559
Sewer Solution lets you dump and clean your holding tank without exposure to raw sewage or odor, through a 3/4" plastic dump hose. 3" sewer hose is no longer necessary! Your garden hose attaches and a high-velocity water jet creates a powerful venturi-effect pumping action that pulls sewage from RV and ejects it out the discharge hose. The shear force of the water jet liquefies waste and tissue. Pumps up to 8 gal./ minute up to 30' with the 3/4" dump hose. Includes clear polycarbonate pump unit, 10' Sewer Solution dump hose, garden hose-quick-connect iwth back-flow preventer and adapter for connecting to 3" and 4" sewer pipes or 1" PVC pipe.



TANK WAND HOSE KIT
$14.49
26014
No more dragging a garden hose through the RV; just hook up your Tank Wand Hose Kit between your cleaning wand and the bathroom sink faucet. This also lets you use hot water, which gives extra cleaning power.


VALTERRA FLEXIBLE TANK WAND
$12.99
25945
This flexible garden hose wand easily makes 90-degree turns under the toilet, enabling you to snake it through to the tank and clean your tank more effectively.



VALTERRA HI FLOW SHUT OFF VALVE
$3.89
25942
Hi flow shut off valve has a unique 3/8" larger internal opening for maximum water flow vs. the 5/16" opening common on most import shut off valves. It is an ideal shut off valve for use with any tank flushing product.


VALTERRA NO-FUSS FLUSH
The jet stream spray from the No-Fuss Flush unit removes and flushes away deposits from inside the holding tank. Rinses tank quickly and easily. Easily installs permanently to outside of RV. Eliminates the need to drag a hose inside the RV to flush out the holding tank. Connect NO-Fuss-Flush to outside wall of RV for easy-hook up. Check valve included. Accessory kit has a chrome-plated inlet and fittings. Order the Accessory Kit with the No-Fuss-Flush Kit includes a chrome plated water inlet, plus 2 hose couplings and hose adapter. The water inlet mounts to the exterior of your RV.
VALTERRA NO-FUSS FLUSH ACCESSORY KIT $23.95 VALTERRA NO-FUSS FLUSH WITH CHECK VALVE $25.95


VALTERRA RV FLUSHING HOSE
$11.79
27281
This hose is specifically made for waste water applications to connect gray water tanks to sewer inlet. Gray color eliminate confusion with fresh water hoses. Use with RV Hydroflush or other flushing applications. 1/2" x 15'.



VALTERRA RV HYDROFLUSH WITH REMOVABLE ANTI-SYPHON VALVE
$27.99
25952
Breaks up plugged tanks; the clear plastic construction makes it easy to see when waste system is clean. Flushes the entire waste system clean, including the tank, pipe, valve and drain hose. No installation need; bayonet lugs on bottom let standard hose adapters twists on.