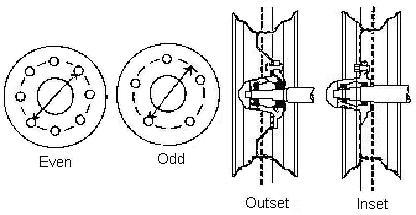 WHEEL SELECTION HOW-TO'S
$0.00
WSHT
A great deal of thought and consideration should be give when selecting trailer wheels. Important choices must be made from the various wheels on the market. When combing wheels, tires, hubs and axles, the load carrying capacity is limited too whichever component has the lowest capacity. Load capacities relate specifically to generally accepted standard axle applications for conventional trailers used in normal highway service, loaded equaly side-to-side. Unusual axle configurations, unequal fore and aft loading, or overload conditions can cause premature failure of wheels, tires and/or other parts.

HOW TO DETERMINE BOLT PATTERN
Match wheels to the hub by number of bolts and bolt circle. To determine the bolt circle on wheels with an even number of bolt holes, measure center-to-center on bolt holes directly across from each other on the diameter (example: 8 on 6.5 would mean 8 bolt holes with 6.5 center-to-center diameter). On odd number bolt wheels, measure any bolt hole center to the point halfway between bolt holes on the diameter ( Example: 5 on 4.5 would mean 5 bolt holes with 4.5 measure to a point halfway between the opposite bolts).

HOW TO DETERMINE WHEEL OFFSET
Offset is the distance between the mounting face of the disc and rim centerline.
INSET: Refers to the distance when the mounting face is outboard of the rim centerline.
OUTSET: Refers to the distance when the mounting face is inboard of the rim centerline.




ALUMINUM TRAILER WHEELS
These great looking mods and star design wheels have been designed from the ground up, specifically for trailer use. They all feature steel hole inserts and are individually boxed. A wet clear coat finish ensures long lasting corrosion resistance. All are covered by a 3 year limited manufacturer's warranty. Unless noted wheels have zero offset.
13X4.5 5 on 4.5 ALUMINUM STAR TRAILER WHEEL $110.67 14X5.5 5 on 4.5 ALUMINUM MOD. TRAILER WHEEL $104.85 14X5.5 5 on 4.5 ALUMINUM STAR TRAILER WHEEL $109.95 15X6 5 on 4.5 ALUMINUM MOD. TRAILER WHEEL $109.69 15X6 5 on 4.5 ALUMINUM STAR TRAILER WHEEL $114.80 15X6 6 on 5.5 ALUMINUM MOD. TRAILER WHEEL $109.69 15X6 6 on 5.5 ALUMINUM STAR TRAILER WHEEL $114.80 16X7 6 on 5.5 ALUMINUM MOD TRAILER WHEEL .31" OUTSET $137.16 16X7 6 on 5.5 ALUMINUM STAR TRAILER WHEEL .19" INSET $142.28 16X7 8 on 6.5 ALUMINUM MOD. TRAILER WHEEL .31"OUTSET $137.16 16X7 8 on 6.5 ALUMINUM STAR TRAILER WHEEL .19" INSET $142.28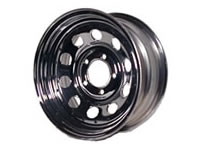 CHROME WHEELS
Chrome Wheels have all of the features and benefits of Painted Wheels, plus a bright chrome plated finish. Available in 8 spoke or 10-hole modular versions. All wheels have zero offset.
13X4.5 5 on 4.5 CHROME SPOKE WHEEL $58.56 14X6 5 on 4.5 CHROME MODULAR WHEEL $67.22 14X6 5 on 4.5 CHROME SPOKE WHEEL $67.22 15X6 5 on 4.5 CHROME SPOKE WHEEL $73.83 15x6 6 on 5.5 CHROME MODULAR WHEEL $53.59 15X6 6 on 5.5 CHROME SPOKE WHEEL $74.25 16X6 8 on 6.5 CHROME MOD WHEEL $94.76 16X6 8 on 6.5 CHROME SPOKE WHEEL $94.76


GALVANIZED SPOKE TRAILER WHEELS
These galvanized spoke wheels are perfect for salt water marine trailers or any situation that demands added corrosion resistance. Choose the size that best fits your needs.
13X4.5 5 on 4.5 GALVANIZED SPOKE WHEEL .19" INSET $43.71 14X6 5 on 4.5 GALVANIZED SPOKE WHEEL .60" INSET $59.97 15X6 5 on 4.5 GALVANIZED SPOKE WHEEL 0" INSET $68.25 15X6 6 on 5.5 GALVANIZED SPOKE WHEEL .60" INSET $68.67


MODULAR TRAILER WHEELS
Unless noted wheels have zero offset.
13" x 4.5" White Modular Wheel 5 on 4.5" Bolt Pattern $21.29 14X5.5 5 on 4.5 WHITE MOD 10 HOLE WHEEL 3.19 PILOT $26.12 15X5 5 on 4.5 WHITE MOD 10 HOLE WHEEL 3.19 PILOT $42.16 15X5 5 on 5.0 WHT MOD WHEEL $64.04 15X6 5 on 4.5 SILVER MOD WHL 3.19 PILOT $46.04 15X6 5 on 4.5 WHITE MOD 10 HOLE WHEEL 3.19 PILOT $29.55 15X6 6 on 5.5 WHITE MOD 10 HOLE WHEEL 4.27 PILOT $29.95 16 X 6 6 on 5.5 10 HOLE MOD SILVER WHEEL 4.27 PILOT $60.61 16X6 6 on 5.5 WHITE MOD 10 HOLE WHEEL 4.27 PILOT $60.36 16 X 6 8 on 6.5 SLVR MOD .5INSET NO STRIPE (3750#@110PSI) $66.92 16X6 8 on 6.5 WHT MOD WHEEL .5"INSET 4.9PLT(3750#@110) $61.79 16X6 8 on 6.5 SLVR MOD WHL 0 OFFSET (3750# @ 110 PSI) $65.26 16X6 8 on 6.5 WHT MOD WHL 0 OFFSET (3750# @ 110 PSI) $39.95 16.5X6.75 8 on 6.5 MOD 10HOLE WHT WHL .5"INSET 4.90 PILT $75.37


WHITE SPOKE WHEELS
All wheels have zero offset.
14X6 5 on4.5 WHITE SPOKE WHEEL 3.19 PILOT $26.12 15X5 5 on 4.5 WHITE SPOKE WHEEL 3.19 PILOT $42.23 15X6 6 on 5.5 WHITE SPOKE WHEEL 4.27 PILOT $29.55 15X6 5 on 4.5 WHITE SPOKE WHEEL 3.19 PILOT $29.95 16X6 8 on 6.5 WHT SPK WHEEL 4.90 PILOT(3750#@110PSI) $39.95 16.5X6.75 8 on 6.5 WHITE SPOKE WHEEL 4.90 PILOT $71.25 13X4.5 5 on 4.5 WHITE SPOKE WHEEL 3.19 PILOT $21.29 12X4.0 4 on 4 WHITE SPOKE WHEEL 2.84 PILOT $25.87 12X4.0 5 on 4.5 WHITE SPOKE WHEEL 3.19 PILOT $24.45 16X6 6 on 5.5 WHITE SPOKE WHEEL 4.27 PILOT $60.38 13X4.5 4 on 4.0 WHITE SPOKE WHEEL 2.82 PILOT $34.98 15X6 5 on 4.75 WHITE SPOKE WHEEL $46.34 15X6 5 on 5.0 WHITE SPOKE WHEEL $29.95


O.E.M. DUAL WHEELS AND RIMS
Because of the increasing use of dual wheel axles, it has become very important that we be able to supply our customers with wheels that compliment the axles and tires used in any given application. We feel the group of Dual Wheels and Rims listed below will fit your needs. We offer wheels and rims in diameters from 14.5" to 22.5" with various designs and capacities.
16.5X6.75 8 on 6.5DX DUAL 5.5"OUTSET 4.75PLT3K FITS9K10K12K $104.14 16X6 8 on 6.5 DEX DUAL 5.5"OFFSET 4.75PT 3KCAP FIT9K10K12K $100.69 17.5x6.75 10 ON 8.75" 15-20K DUAL WHEEL, 6200# CAP. 6.19" OUTSET $168.80 22.5x8.25 BUDDSTYLE DUAL WHEEL, 10 ON 11.25" 8000# 6.625" OUTSET $134.29 14.5x7 8 on 6.5 DUAL WHEEL 5.65" OUTSET $98.01 16x6 8 on 6.5 SLVR OEM DUAL WHEEL 4.75 PILOT 5.5" OUTSET $119.78 16x6 8 on 6.5 1TON FORD-STYLE COINED DUAL WHEEL 5" OUTSET $115.54 16x6 8 on 6.5 DUAL WHEEL, 4.88 PLT FOR HAYES 9-10K 5" OUTSET $103.97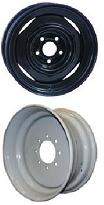 O.E.M. SINGLE WHEELS
O.E.M. design wheels have been the standard used on trailers for many years. They offer the appearance, strength and simplicity that many customers prefer. We offer O.E.M. design wheels in sizes from 8" to 17.5" diameter. Unless noted wheels have zero offset.
16.5X6.75 8 on 6.5 OEM WHEEL USES 1309 HUB CAP .50" INSET $65.54 17.5X6.75 8 on 6.5 SGL WHEEL 4.75PILOT .31" OUTSET 6.2K $118.58 17.5"X6.75" 8 on 6.5 8&9K SGL WHL 4.75PLT .19"INSET 6.2K $118.58 17.5X6.75 8 on 6.5 8-10K SNGL WHL 4.75PLT .50"OUTSET 6200# $118.58 10X6.00 4 on 4 OEM WHEEL USES 1102 HUB CAP $45.16 10X6.00 5 on 4.5 OEM WHEEL USES 1102 HUB CAP $48.00 13X4.5 5 on 4.5 OEM WHEEL USES 1308 HUB CAP .50" INSET $33.29 14X5.5 5 on 4.5 OEM WHEEL USES 1308 HUB CAP .50" INSET $37.13 15X5.00 5 on 4.5 OEM WHEEL USES 1308 HUB CAP .50" INSET $41.40 15X6.00 5 on 4.5 OEM WHEEL USES 1308 HUB CAP .50" INSET $45.74 15X6.00 6 on 5.5 OEM WHEEL USES 1306 HUB CAP $45.05 16.5X9.75 8 on 6.5 SINGLE WHEEL HVY DUTY 4,000#CAP .50" INSET $157.40 16X6.00 6 on 5.5 OEM WHEEL USES 1309 HUB CAP $61.28 8x3.75 4 on 4 OEM WHEEL USES 1102 HUB CAP $22.63 8X3.75 5 on 4.5 OEM WHEEL USES 1102 HUB CAP $22.63

UTILITY RIMS
Many utility trailers have been equipped with "UTG" or utility type axles that require a 14.5" diameter rim. We have 2 widths available, 6.00" and 7.00". These rims are specifically manufactured for trailer use.
14.5 X 6.00 RIM $39.71 14.5 x 7.00 RIM $79.80