Rock and Splash Protectors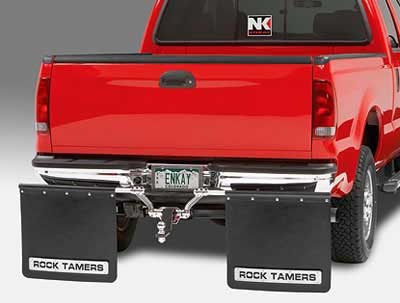 ENKAY ROCK TAMERS
ROCK TAMERS™ are the premiere "Adjustable and Removable" Mudflap System designed to provide the ultimate protection for your towables from damage caused by rocks and road debris. They are the perfect solution for consumers who want the utility aspect of mudflaps and want to maintain their vehicle's stylish and attractive appearance. Available in Chrome and Black.
ROCK TAMER MUD FLAP SYSTEM - BLACK $249.95


ROCK GUARDS FOR TOWABLE RVs
$151.19
85580
Protect 5th wheels and travel trailers from rocks and debris with heavy-duty padded vinyl. Installs easily. Pressure sensitive hook and loop strips with marine type hardware. "UNIVERSAL FIT" Size: 28" x 94" Can be stretched to 97", black.



ROCK SOLID BACK GUARD FOR MOTORHOMES
Protection that won't fly away! Durable, light weight materials protect the back of your coach, vehicle in tow, and nearby cars. Aerodynamic design reduces wind drag. Strips won't allow excess heat build up under your coach. Individual strips can be trimmed to fit and removed to accommodate mufflers, hitches, wiring, etc. 1-year guarantee by manufacturer.
ROCK SOLID FOR CLASS A MOTORHOMES 2/PIECES 48" X 20" $102.95 ROCK SOLID FOR CLASS C & SMALLER CLASS A MOTORHOMES 2/PIECES 48" X 16" $91.95


ROCK SOLID PROTECTIVE GUARD FOR PICK-UPS
$105.95
79648
EASY TO MOUNT, NO DRILLING IN YOUR TRUCK. Your truck or van kicks up debris that can damage your vehicle or boat in tow. Avoid those nasty chips and dents with this "full width" protective rock and splash gaurd. Easily fastens to your 2" receiver hitch insert. The mounting system allows for easy removal from the vehicle when not towing. Constructed of durable, all weather, therma-plastic rubber. Rock Solid provides protection that mud flaps cannot. the kit includes two 34" x 14" sections, 4' pre-drilled channel, hitch bracket and all installation hardware. Perfect size for van, pick-up and sport utility vehicles. 1-year guarantee by mfr.



ROCK SOLID ULTRA GAURD FOR MOTORHOMES
ATTRACTIVE, ONE PIECE, ALL RUBBER MOLDED ROCK GAURD. Provides tough shielding for the back of your coach and your vehicle in tow from rocks, diesel oil, gravel, tar and other road debris. Made of a special blend of rubber with reinforcing fabric and ribs molded in to reduce wind sail and ensure durability. One piece construction attaches to your coach with a standard piece of angle iron or tubing (not included). Can be trimmed and cut to fit almost any motorhome. For class A Motorhomes.
ROCK SOLID ULTRA GUARD 94"W x 16"L $92.95 ROCK SOLID ULTRA GUARD 94"W x 20"L $109.95


SPLASH STOP
Brush-like material attaches to rear of motorhome to keep tar and debris from hitting your towed vehicle. Also keeps back of motorhome cleaner. Lightweight material won't increase wind drag or heat build-up; won't crack; is easy to install and remove; won't interfere with normal hitch operations. 8 ft.L (two 4' sections). Brush shield support is a 4' long support for 16" and 22" hang down Splash Stop. Easy to install, reduces fly-back and improves appearance.
SPLASH STOP 11" HIGH $61.95 SPLASH STOP 16" HIGH $64.95 SPLASH STOP 22" HIGH $77.95